Well, It has been a really looooong time since I've posted, I went out of town to Virginia for 11 days and visited family and had lots of fun, I got back on the 22nd and slept all day and have had no desire to do anything ever since
I got some really exciting news, Ill have to share at a later date that has been keeping my mind busy and I also had an interview today that I believe went very well, so Im super excited about that too
The one thing that got me on here today is because I received my Fall into Autumn swap package, yippee, I was napping, yes what a bum right, when the Postal lady knocked on my door with my package, how exciting to get something other than bills
So I am here today to share photos of all my lovely gifts and a few from my trip
Not much knitting news, I made a matching pair of mittens for the baby hat, and I finished the jellyfish shrug for mom while I was there, but haven't started or finished anything, my knitting mojo seems to have gone missing, what am I gonna do..eeek...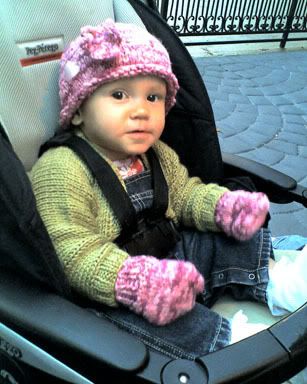 Here are pix of the cutie in the hat and matching mittens, adorable, also she is wearing the baby shrug I made for here last xmas!!!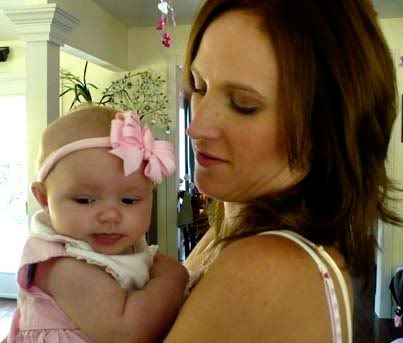 These are all the little people in my life
pix from my last trip
Oh ya!! I dyed my hair brown, its not permanent though, so I will be blonde again in 6 weeks!
And now for the swap package
I got a really cute card, a gorgeous washcloth, some yummy peaches and cream which I've never used before and have been wanting to try for a while, and then more yarn, how did I get so lucky, its Bernat cotton tots, in two super cute pink colors and its sooooo soft!! Got a fun washcloth patten book, some beautiful fall leaves, she brought me a little fall from the east coast, which I don't see much of anymore, my favorite kind of chips, kettle cooked chips, I am such a potato chip fiend, ask anyone, my absolute favorite Candy bar from Trader Joes, altoids chocolate mints, ooh yummy, a really cool bar of soap in one of those "loofah" scrubbers, It think thats what its called, the natural scrubbers, I've never seen anything like it but its really pretty, a super cool SSK magnet, how cute, and a tube of lip balm I believe from trader Joes also, just what I need for the upcoming cool weather chapped lips!
Everything is so perfect, Thanks so much Katie!!!!! I love it!!
http://mayleebeezir.blogspot.com
Okay, so hopefully I get back into the swing of things on here, I 'll try to get a post together on my finished JellyFish Shrug, until then, have a great Halloween!!